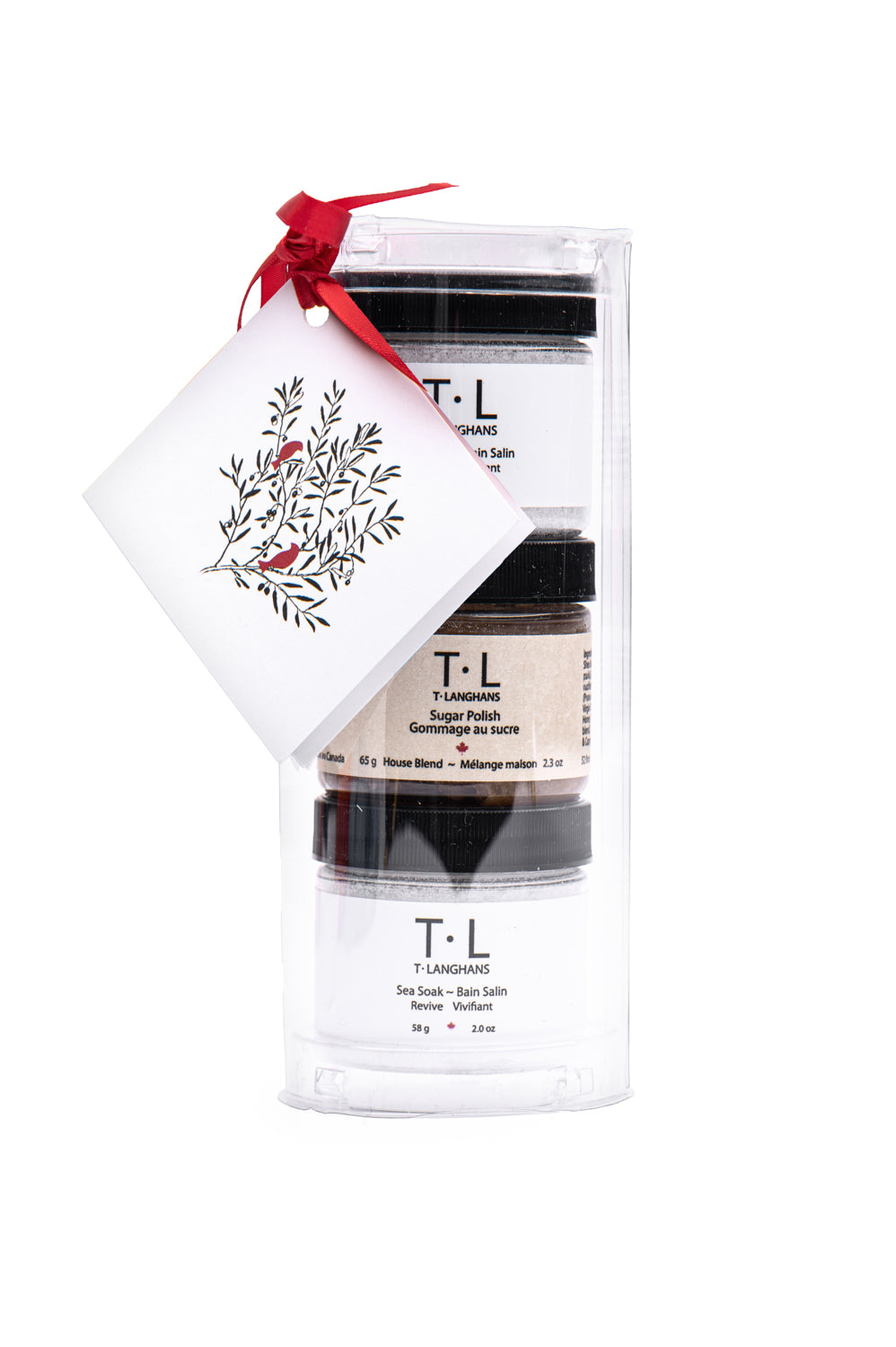 Sweet & Salty Gift Set
Sale price

$30.00
Regular price
(/)
---
Single Sweet and Salty set: A $32 value! You save $2.
NOTE: Since this product is already discounted, it is not eligible for other discounts or TOVA COIN redemptions.
100% All Natural Ingredients
Cruelty Free, Gluten Free, Nut Free
DOES NOT CONTAIN Sodium Laurel Sulfate, Coco-Betaine, Parabens, Phthalates, Fragrance Oil
Proudly Handcrafted in Canada
INCLUDED WITH PURCHASE
FREE Olive Me Loves Olive You Gift Tag
A NOTE ABOUT USING OUR PRODUCTS: We know you'll want to use your House of T•L products right away. In the event however that you don't, please be aware that since T•L products are all natural, their shelf life is less than your typical drugstore brands (think homemade bread vs. sliced bread). All our products are meant to be used within a year of purchase. Check the back label for the jar icon to see the number of months once bottles are opened. Like with most things natural, fresher is better.
REFUND POLICY - OUR COMMITMENT TO YOU

House of T•L stands behind all our products. If you have any questions or concerns about any aspect of your order experience, please contact us HERE. We will rectify the situation with an exchange or issue a refund. We're not happy until you are!

SHIPPING AND PICK-UP POLICY

Pick-ups

Pick-ups are available at our Uxbridge, ON location at 52 Brock St E.  Orders are placed in a pick-up bin on our front porch so it is a contactless process.  Simply select pick-up at check-out.  As soon as the order is ready for pick-up you will receive a notice via email with our hours and address for pick-up.

Shipping delivery

All packages ship via courier. Every order receives a tracking number that is emailed to you as soon as our shipping label is created.

Shipping cost

CANADA -

Canadian Provinces: All orders over $150 CAD (before tax and shipping) are eligible for FREE Shipping. Orders under $150 will be charged a flat rate at checkout of $19.

Canadian Territories: Unfortunately we currently are not able to ship to the territories.

USA - (lower 48 States) - All orders over $250 CAD (before tax and shipping) going to any of the lower 48 US States will receive FREE shipping. Orders under $250 CAD will have shipping charges added at checkout based on your location, and size and weight of your order.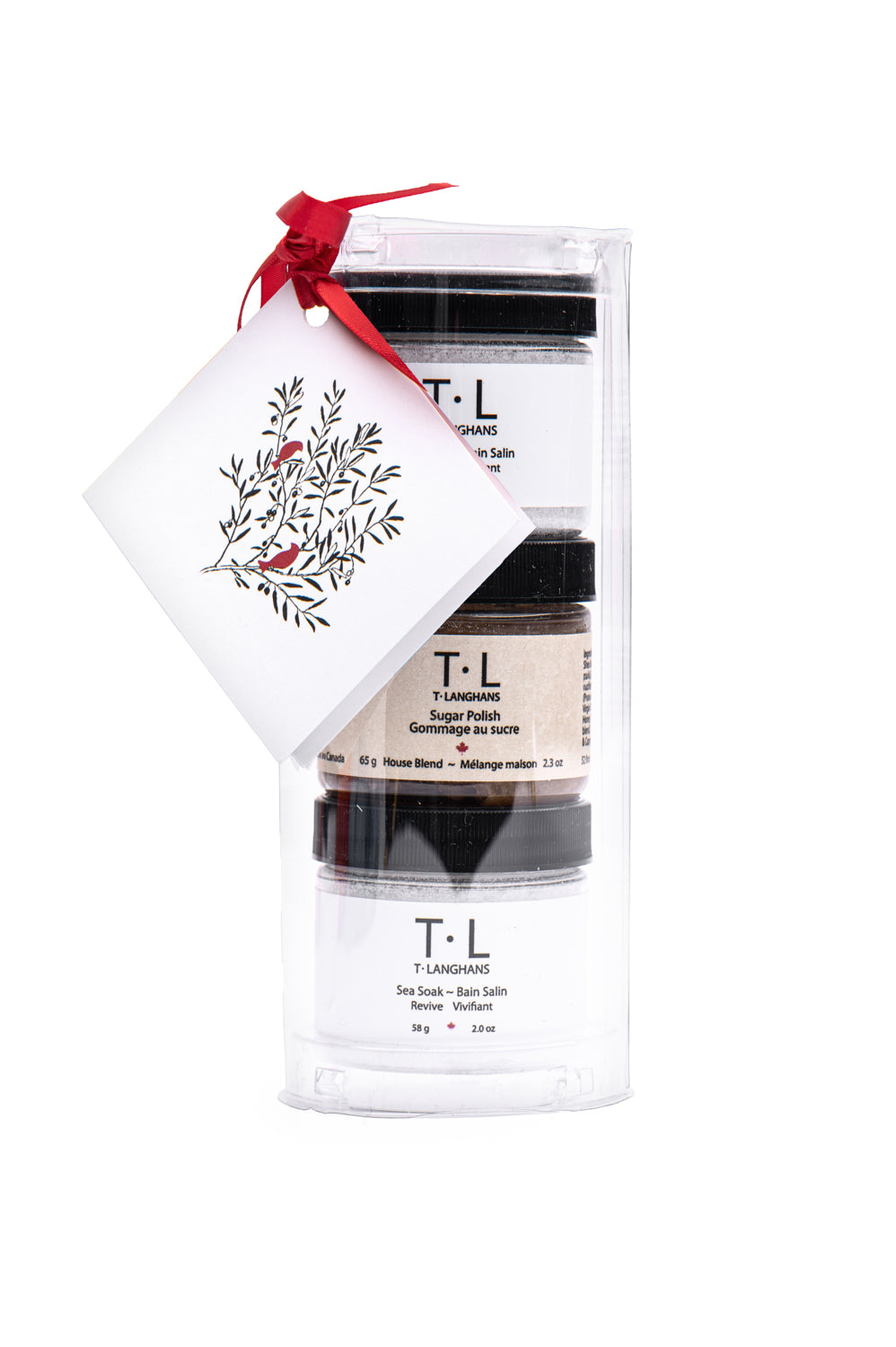 Sweet & Salty Gift Set
Sale price

$30.00
Regular price
Choose options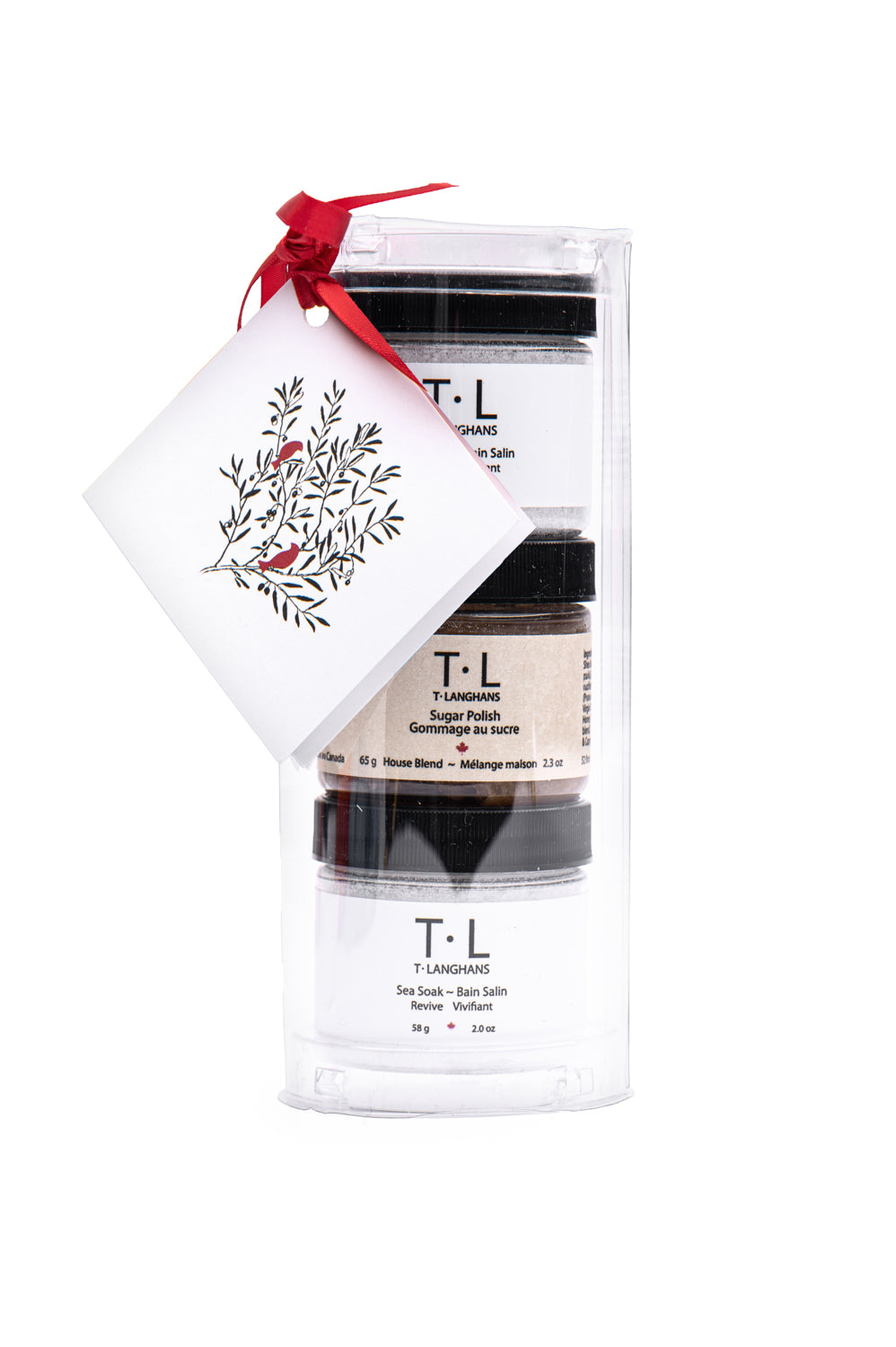 This adorable gift set is a perfect sampler of our Sea Soak and Sugar Polish. It comes packaged in a clear gift cylinder and includes:

2 x 58g Sea Soak (Revive scent)

1 x 65g Sugar Polish (House Blend Scent)

1x Olive Me Loves Olive You gift card and ribbon.

SUGAR POLISH
Think of it as a moisturizing body scrub. The exfoliant in it is sugar - simple. Combine it with healthy moisturizing oils, house blend essentials oil blend, and home grown honey from Laura's sister's beehive and you have House of T•L's Sugar Polish. It can be used anywhere on the body including the lips and even the face (although any exfoliant on the face shouldn't be used more than once a week). Try it in the shower after you've finished cleansing and experience an at home spa treatment. You and your shower will never smell better.

SEA SOAK
Each 58g jar is the perfect amount for a soak in the tub. And our Sea Soak isn't called Revive for nothing. Notes of Peppermint and Eucalyptus married with Lavender and Citrus will leave you feeling refreshed and invigorated. Our mix of therapeutic salts will relax and soothe sore muscles.

If you have any questions about this or any product on our site, we are just a click away. Simply click CONTACT US at the bottom of our website.
SUGAR POLISH (NOTE this product contains honey)
Exfoliant - Sugar
Moisturizers - Extra Virgin Olive Oil, Apricot Kernel Oil, Coconut Oil, Shea Butter
Natural Humectant, Antibacterial & Anti-inflammatory - Honey
Essential Oil Blend - proprietary scents and therapeutic uses
Preservatives - Lactobacillus Ferment, Lactobacillus and Cocos Nucifera Fruit Extract (naturally derived, paraben and formaldehyde-free preservative system, non GMO, vegan)

SEA SOAK
Epsom Salts: known for relaxing muscles and relieving minor arthritic pain
Sea Salt: stimulates circulation and relieves stiffness in joints
Dendritic Salt: Maintains essential oils scent longer allowing for prolonged aromatherapy benefits.
Essential Oils: Our Revive scent contains a blend of essential oils that will help clear and refocus your mind.