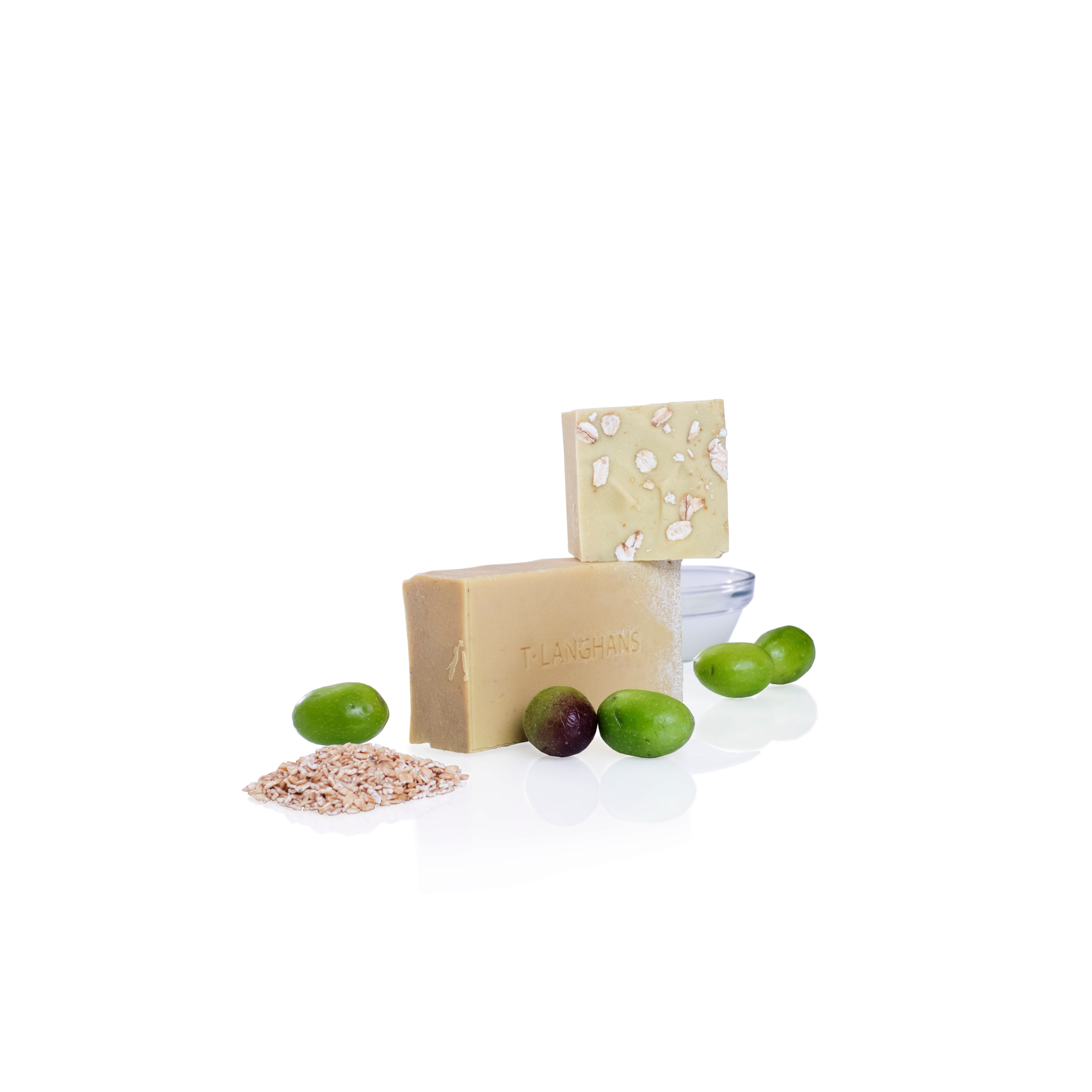 Goat's Milk & Oatmeal Bar Soap
Sale price

$12.00 USD
Regular price
(/)
---
NOTE: This product contains Goat's Milk
100% All Natural Ingredients
Cruelty Free, Gluten Free, Nut Free
DOES NOT CONTAIN Sodium Laurel Sulfate, Coco-Betaine, Parabens, Phthalates, Fragrance Oil
Proudly Handcrafted in Canada
Included with every bar purchase
FREE Loofah Soap Saver Slice
True Castile soap. This is where it all started. After a forced career change (see The Journey To T•LANGHANS for those gory details) it was time for something new. Being a soap addict I was already experimenting with making soap so I thought 'hey, why not see if anyone wants to buy my homemade soaps?'. I knew melt and pour wouldn't cut it so I embarked on a journey to make a cold-pressed true Castile soap. True Castile soaps are made with 100% Olive Oil; no other oils are added. Turns out there aren't very many available. Most contain coconut, sunflower, palm or some other vegetable oil along with the Olive Oil. I knew I was on to something when people kept coming back for more of my soap. I started with known scents such as Lemongrass, Lavender and Bergamot to name a few. We now have 10 scents including our exclusive House Blend. We hope you enjoy these hand-made soaps as much as we enjoy making them. Did we mention our soap makes the perfect Stocking Suffer, Hostess or Teacher Gift? Oh and every soap comes with a free loofah slice. Your soap dish will thank us!

Goat's Milk:

Crafted for ultra-sensitive skin, our Goat's Milk Bars are a moisturizing combination of goat's milk and oatmeal. What could be better than antioxidant rich virgin olive oil and skin smoothing goat's milk blended with the anti-inflammatory and gentle exfoliating benefits of oatmeal?

 

If you have any questions about this or any product on our site, we are just a click away. CONTACT US
Distilled Water
Extra Virgin Olive Oil - Moisturizer
Lye - NAOH (Necessary to turn the olive oil into soap. With proper formulation, zero lye is left over in the finished product)
Goat's Milk - Moisturizer and calming, anti-inflammatory properties (in our Goat's Milk & Oatmeal bar only)
Oatmeal - gentle exfoliant and serves as anti-itch agent for sentitive skin (in our Goat's Milk and Oatmeal bar only)
Sodium Lactate - The sodium salt of lactic acid. Used to harden soap.
A NOTE ABOUT OUR PRODUCTS: Our bars are hand made and cut giving them a unique rustic look. This may mean some edges are rougher than others but you are always guaranteed to get the full amount of bar that you've purchases.

For ease of use bars can be cut into smaller pieces if desired. Simply put the remaining soap back in it's box so it retains its scent.

Shelf Life for Bars: Bar soaps don't really go bad. Over time they harden because the moisture in the bars will evaporate. A harder bar will actually last longer when in use. Also over time the scent of your bar (if scented) will fade. Keeping them in the box prolongs this and when cutting and using the bars more scent is produced as well. None of these changes affect the usability of your bar.

Another tip to prolong the life of your soap is to use a fully draining soap dish. High quality soaps like ours will soften in water and become gel-like. Using the Loofah Soap Saver Slice included with your purchase in your soap dish will ensure your bar remains dry between uses.
REFUND POLICY - OUR COMMITMENT TO YOU

House of T•L stands behind all our products. If you have any questions or concerns about any aspect of your order experience, please contact us HERE. We will rectify the situation with an exchange or issue a refund. We're not happy until you are!

SHIPPING AND PICK-UP POLICY

Pick-ups

Pick-ups are available at our Uxbridge, ON location at 52 Brock St E.  Orders are placed in a pick-up bin on our front porch so it is a contactless process.  Simply select pick-up at check-out.  As soon as the order is ready for pick-up you will receive a notice via email with our hours and address for pick-up.

Shipping delivery

All packages ship via courier. Every order receives a tracking number that is emailed to you as soon as our shipping label is created.

Shipping cost

CANADA -

Canadian Provinces: All orders over $150 CAD (before tax and shipping) are eligible for FREE Shipping. Orders under $150 will be charged a flat rate at checkout of $19.

Canadian Territories: Unfortunately we currently are not able to ship to the territories.

USA - (lower 48 States) - All orders over $250 CAD (before tax and shipping) going to any of the lower 48 US States will receive FREE shipping. Orders under $250 CAD will have shipping charges added at checkout based on your location, and size and weight of your order.
Goat's Milk & Oatmeal Bar Soap
Sale price

$12.00 USD
Regular price
Choose options